XTO partners with center to train first responders in Marcellus emergencies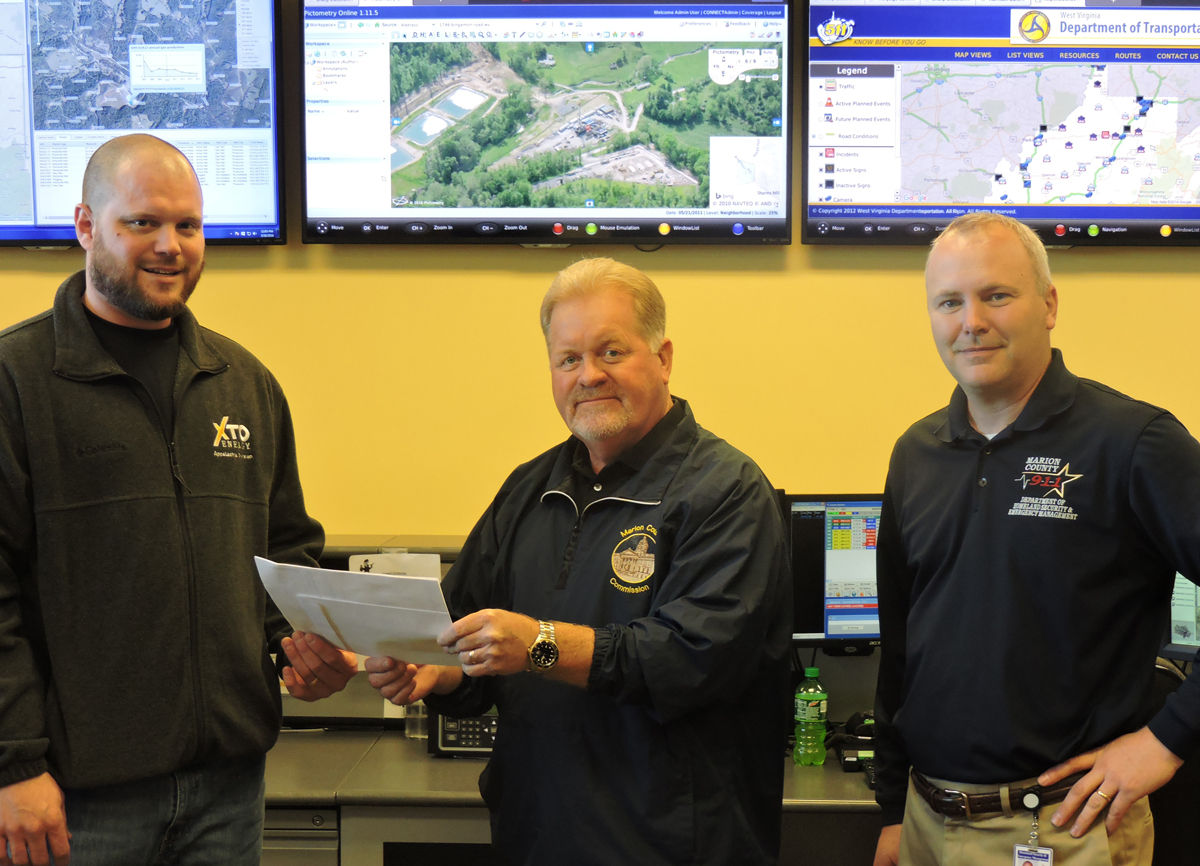 PHOTO BY HANNAH ROSCHE
XTO representative Jay Newell (from left) present Marion County Commission member Randy Elliot and direct of Marion County Homeland Security and Emergency Management Chris McIntyre a $2,500 grant to continue updating the Marion County 911 Call Center's technology. 
By Hannah Rosche | March 19, 2016 | Times West Virginia
FAIRMONT — The Marion County 911 Center has received a $2,500 grant from XTO Energy Inc.
XTO Energy Inc. is an energy company that specializes in drilling and producing natural oils. It has been partners with the Marion County 911 Center for the past few years and presented another grant of $2,500 in the past.
"They're a really good corporate partner for Marion County," said Randy Elliott, a member of the Marion County Commission. "We're happy that they're involved in the community in Marion County. They're here for the right reasons."
Jay Newell, a representative for XTO, offered the check to Elliott and Chris McIntyre, director of Homeland Security and Emergency Management.
"(XTO has) partnered with us for the past few years," said McIntyre. "We've done (emergency) drills together with XTO. They're a very good partner. They're very upfront with everything, and they're one of the most progressive gas companies we've dealt with in the county."
XTO partnered with the 911 Center to help train first responders how to respond to Marcellus emergencies. The 911 Center also monitors drilling.
"What we use this technology for on their part is we can monitor these situations if we would have something arise with the chemical industry or gas well or pipeline," said McIntyre.
The grant money previously was used for updating technology at the 911 Center. This grant will have that same use.
"We've come a long way," said McIntyre. "There's so much that goes on anymore with this technology. This grant money, it helps us out tremendously to get things done like this. It really helps us out."
Past grant money was used to purchase new technology like monitoring screens and a new CAD system.
"It's absolutely amazing where we came from and where we are with technology," said McIntyre. "After we get the new CAD system in, (first responders will) have laptops in their vehicles that'll show the same information (for Smart 911)."
The grant money was also used in the process of creating the program Smart 911, which is a system in which Marion County residents can register that will automatically bring up their name and information like medications they take, their address and what types of cars they drive when they call 911.
"The name of the game is speed, getting a first responder there as quick as they can," said Elliott.
Elliott said XTO is a good corporation teamed with Marion County.
"We're glad XTO is here in Marion County," said Elliott. "They've done a lot of drilling, they've provided jobs and also they're a good corporate neighbor by wanting to help out with the 911 Call Center. It's very important that they get to reach their men and their people if there's an accident. Again, we're really happy to have them here. They add to the tax base, and they provide employment."
Email Hannah Rosche at hrosche@timeswv.com.
Do you like this post?
---